Friends and acquaintances at the End of the Pavement
The End of the Pavement was a good place to meet up with friends.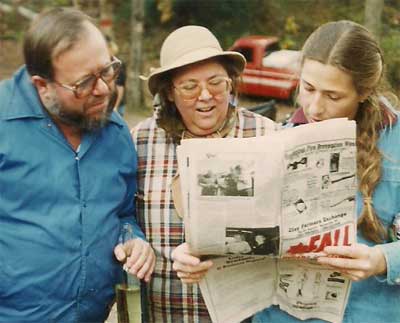 Reading the North Georgia News
Paul, Tina, and Jill found something interesting in the the North Georgia News. They were probably checking out the arrest reports. Some days probably seemed boring to outsiders but not to the regular crowd. We picked up on every tone of voice and every sideways glance. We could almost read each other's minds.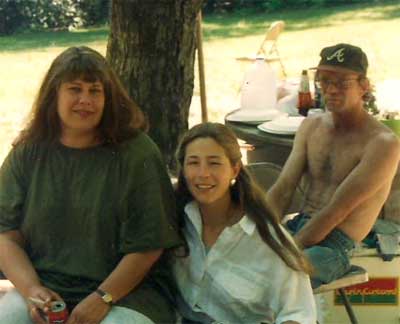 Janice, Jill, and Tony
We were all best friends. Jill and I loved Tony. He was the only one that worked near a telephone and we could call him to find out what was happening. Rich's Custom Cabinets phone rang a lot on Thursday and Friday.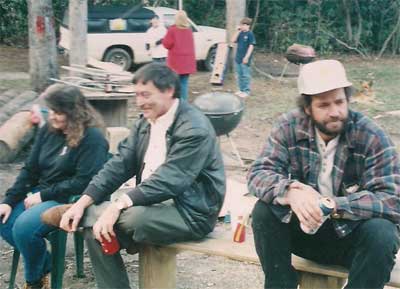 Three friends sat on the wood bench.
Diane and Larry looked like they were about to bust out laughing about something. Vince must have missed it. I want in on the joke.
Most of the End of the Pavement regulars could read each other's faces. A slight nod of the head, a cut of the eyes -- we picked up on the slightest gestures. Silent communication came in handy in certain situations, that is for sure.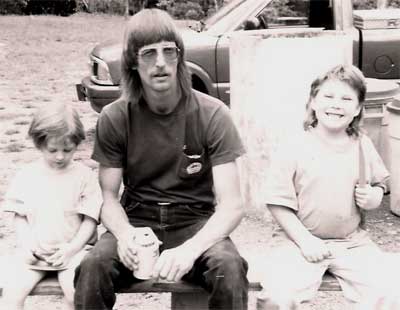 Rose, Brian, and Adrian sat on the bench side by side.
The bench was a good place to hang out. It held up a lot of people without sagging. It never rotted or cracked. Splinters were rare. The builder used good wood and knew what he was doing.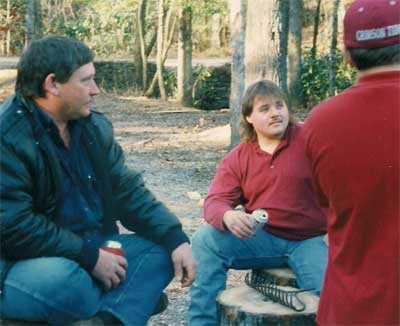 Waiting for something to happen
Larry and Timmy listened to a man in red. This unidentified guy had on a Clemson Tide hat.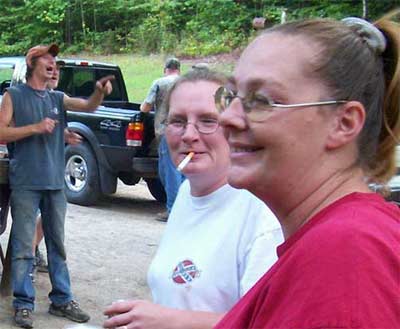 Kim and Trish at the End of the Pavement
Kim started hanging around more in the later years. I did not spend all my free time at the End of the Pavement once I met Tony in 2001 so I missed a lot of things after that year.
Trish was Gomer and Gwen's daughter. Look at her pretty smile.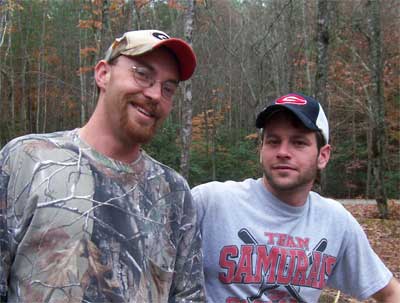 Ab and Curtis at the End of the Pavement
These two fine looking young men were friends. Everyone that hung out at the EOP were tight. We had each others backs.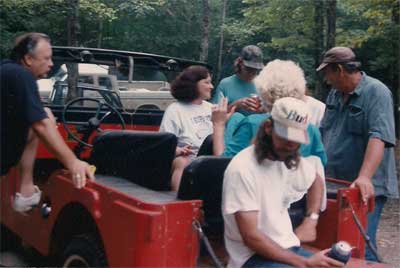 Ann's red jeep
A bunch of friends gather around Ann's Jeep at the End of the Pavement.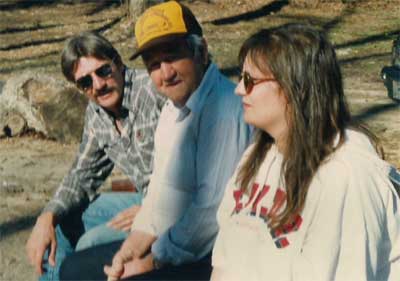 Donald, Edgar, and Brenda
These three horseshoe players were taking a break.
That was Edgar in the middle. He worked at the hospital and farmed for a living. Sometimes he would wet down huge truck loads of collards at the End of the Pavement before hauling them to the Atlanta Farmers Market.
Edgar and Virginia had a large family. All the kids turned out to be good people. There was a bunch of them including Raymond, Nathan, Avery, Bryan, Neil, and Karen.

1997 - Larry, Harry, Bucky, and Lisa
Not sure, but I think that is Harold with Larry and Lisa. Look at the mountain laurel in full bloom. It must have been June or July. Something was cooking on the grill and I bet Bucky got a big piece of the meat!
See more pictures of our pets.
Friends and acquaintances
This group enjoys a fine day at the End of the Pavement.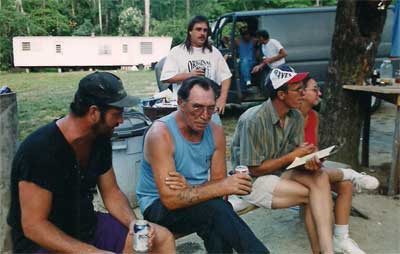 Vince and Pete with friends
Vince and Pete both arrived the End of the Pavement probably around 1995 or so. Pete came from up north and I think Vince came from Atlanta.
Remember the Poker Palace -- the old trailer in the upper left corner of the picture? We had some great times at the Poker Palace playing dealer's choice with a fifty cent ante. Who needs a casino when you have a poker palace?
I had been playing poker since I was ten when my dad would let me occasionally sit in on a friendly game. I loved poker even more than horseshoes!
We played all kinds of variations of the game -- everything from five card stud to baseball (where threes and nines are wild). I think the men groaned when they saw me coming. We also groaned when we saw Marie coming. She won a lot of pots! At The Poker Palace we all got to know each other really well -- stuck indoors with bad weather raging outside. The Poker Palace was a winter thing.
During the poker games, I learned who was cunning, who was daring, who played it safe, and who could bluff. Some of the players were bad losers but most of us set limits and when we lost our money, that was it. I don't remember anyone ever getting caught cheating although we wondered sometimes when a winning streak went on and on.
Lying, cheating, and stealing were not tolerated at the End of the Pavement.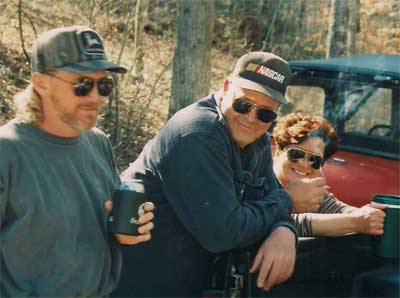 Two men in ball caps with a red-headed woman
Raymond, Hambone, and Ann were up to something. I could tell by the looks on their faces. What ever it was, I wanted in on it.
See more pictures of men in ball caps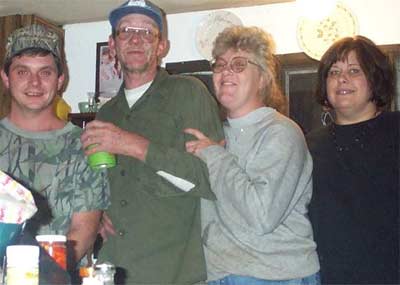 Four friends in Gwen's kitchen
Keith was married to Gomer's sister, Doris. He hung out a lot at the End of the Pavement but always went home to Doris.
Gomer and Gwen lived at the End of the Pavement for a while. We gathered inside their place a lot during the winter months when weather was miserable outside -- especially after sundown when temperatures fell.
I was getting fat. I am probably in my late 40's in this picture. This was taken after Richard bought me my first digital camera around the turn of the century, maybe 1999. Before then, I never used a flash so mostly shot outside in natural light.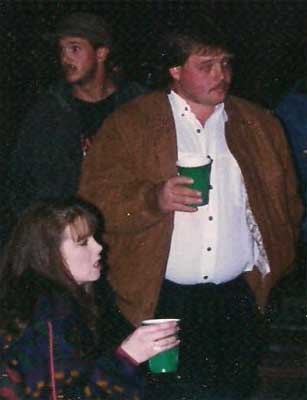 Susan and Timmy with green cups
Susan, Timmy, and Billy enjoyed the party with drinks in their hands.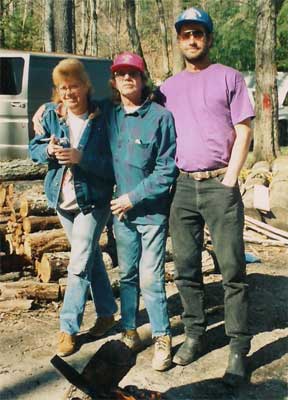 Gwen, Tony, and Vince
Gwen, Tony, and Vince were all good friends.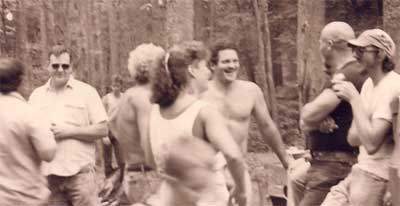 Friends gathered in the woods
Larry, Hambone, Tony B, Frank N, Bart, Big John, Gomer, and others enjoy a summer day of horseshoes and socializing.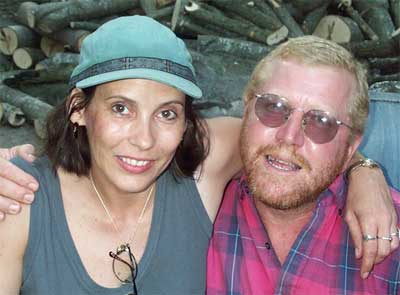 Ann and Billy
Annie and Billy were good friends. Tony and Lena were around somewhere -- probably standing right behind me.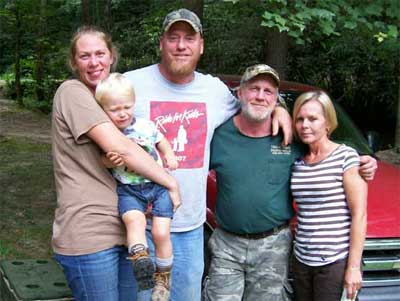 Friends at the End of the Pavement
Amy, Risley, Big Tom, Raymond, and Trish enjoyed the day at the End of the Pavement.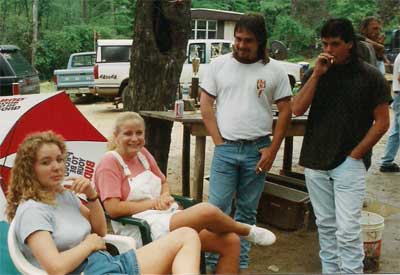 Rain in the forecast
Sharon, Crystal, Gary, and Mark enjoy a wet, humid day at the End of the Pavement.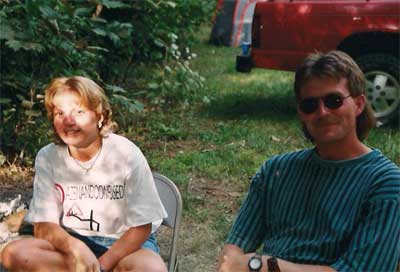 Allison and David
Allison and David relaxed at the End of the Pavement.
Drinking beer
Frank, Big John, and Gomer had a lot of fun at the End of the Pavement. We all did!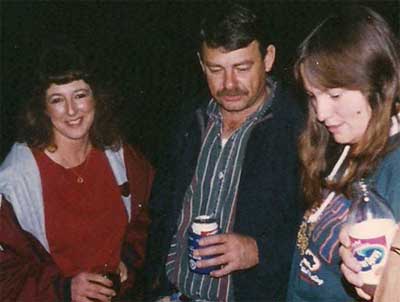 Shawn, Jerry, and Marie
These three friends seem happy enough. Especially Shawn. She has a beautiful smile.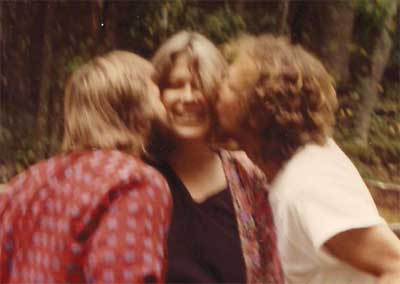 Loving the attention
I got a kiss from two of my friends. I think they both had one too many.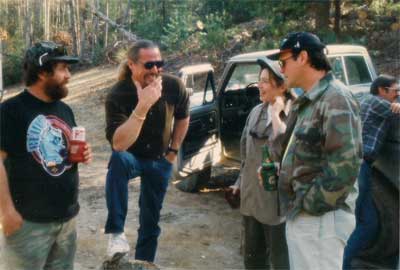 Social life in the mountains
Len, Big John, Jill, and RIck socialized at the End of the Pavement, That was Donald in the background.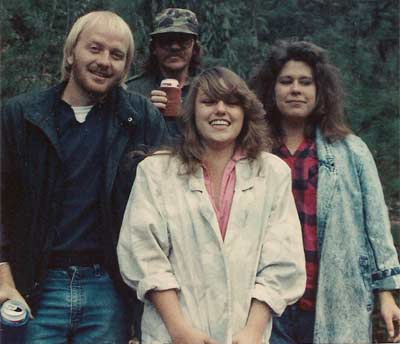 Gary, Gomer, Tammy, and I enjoyed the day
I still have that denim coat. It had a Rolling Stones patch and some embroidery work that I put along the hemline.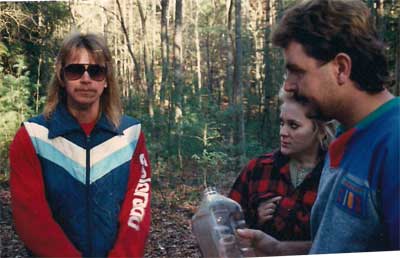 Randy and his wife with Tim
They all match with red, white, and blue.